LaShyra Nolen, BS
---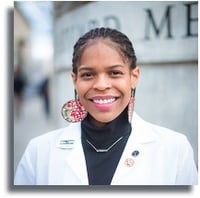 LaShyra Nolen, BS
(she/her)
Editorial Advisor
---
---
Born and raised in Southern California, LaShyra "Lash" Nolen experienced the many ways social injustice impacted her community and became deeply passionate about doing the work of health equity. She graduated with honors from Loyola Marymount University in 2017 with a Bachelor of Science in Health and Human Sciences where she served as student body president, was a member of Belles Service Organization, a Gilman scholar, and the recipient of the Robert Graham, S.J. Award, LMU Student Affair's highest honor for graduating seniors. Following her graduation, Lash traveled to Spain as a Fulbright Scholar where she educated Spanish youth about social justice and health equity in addition to her research on the perception of obesity and diabetes in La Coruña, Spain. After her year in Spain, she completed a year of service as an AmeriCorps member, where she served as a health educator at Heartland Health Centers in Chicago, IL.

Currently, she is a third-year medical student at Harvard Medical School (HMS) where she is serving as the university's student council president for the Class of 2023, the first documented black woman to hold this leadership position. As a leader, Lash has led numerous advocacy initiatives at HMS and beyond, including a nationwide campaign to secure funding for the Health Careers Opportunity Program (HCOP) in 2019. She is a published author and fervent advocate for social justice whose commentary has been published in the Boston Globe, New England Journal of Medicine, Nature, and HuffPost, among others. Lash is also a Foster Scholar in Health Policy, Advocacy, and Media at the MGH Stoeckle Center for Primary Care Innovation and a co-host for the Clinical Problem Solvers Anti-Racism in Medicine podcast.

She is a nationally renowned public speaker and leader of anti-racism in medicine workshops where she has led discussions for prominent organizations such as WebMD and Chemonics International and served on panels with Chelsea Clinton and Former Surgeon General, Dr. David Satcher. Most recently, she founded We Got Us, a grassroots community empowerment project with the goal of bringing vaccine education and access to Black communities in the wake of the COVID-19 pandemic, garnering support and funding from major corporations such as the American Board of Internal Medicine and the Massachusetts Department of Public Health. Her work has earned her the honor of being named the 2020 National Minority Quality Forum's youngest "40 under 40 Leader in Minority Health", a "2020 Young Futurist" by The Root Magazine, a 2021 Boston Celtics "Hero Among Us" Honoree, and the 2021 recipient of the American Medical Student Association's Racial Justice in Medicine Award. In the fall of 2022, Lash will pursue a Master of Public Policy (MPP) in hopes to use policy to impact the health of her future patients as a physician activist.