Reid Blackwelder, MD
---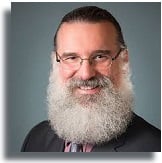 Reid Blackwelder, MD
(he/him)
Editorial Advisor
---
---
Reid B. Blackwelder, MD, FAAFP, is the son of two amazing teachers, and is married to a remarkable person with whom he shares 8 grandchildren, 2 great-grandchildren, 2 dogs and a cat! His passion is teaching which he has done all his career, and still does.

Professionally, he is Professor and Chair of Family Medicine at the Quillen College of Medicine at East Tennessee State University in Johnson City, TN. He previously served as Program Director of the Kingsport Family Medicine Residency Program of ETSU for more than 13 years and regularly precepts residents and students, including interprofessional learners, in all three of ETSU's Family Medicine Residencies.

He is a Past President of the American Academy of Family Physicians. During his 6 years on the Board of Directors and as an officer, he advocated on behalf of family physicians and patients nationwide to inspire positive change in the U.S. health care system, specifically to implement effective team-based patient-centered care.

He graduated from Emory Medical School cum laude, and as member of the Alpha Omega Alpha Medical Honor Society. He did his residency and a teaching fellowship at the Medical College of Georgia. He then was a small town rural physician in Trenton, GA, at a National Health Service Corps clinic.

He is blessed to still be invited to do presentations and events at AAFP state chapters all over the country. His greatest joy is being able to work with Quillen College of Medicine students from day one of their first year through the last day of their senior year.