Part 1 of this blog post discussed some of the empty promises in the United States to make #BlackLivesMatter, as well as the types of policy changes needed to move beyond surface-level action. Today, we'll focus on what specifically cities, companies, and other institutions can do.
What can our cities do to dismantle structural racism?
There has been a fair amount of coverage lately of cities declaring that "racism is a public health issue."
I think many, if not most, of these declarations are symbolic. On the one hand, that doesn't make them unimportant—it is critical that communities are listened to and that they feel heard, and if these declarations are used as a foundation from which to inform policy actions and resource allocation, that would be a positive, much-needed change.
On the other hand, that means these declarations—in and of themselves—don't alter the systems perpetuating racism. Whether that happens depends on all of us sustaining pressure on policymakers, organizational leaders, and others, to follow through on putting their time, money, political capital, and other resources where their mouth is. Words are easy, action is hard.
We actually know a lot about the actions municipalities can take to address structural racism. Next steps following a public declaration—as outlined in the National League of Cities' excellent guide to Advancing Racial Equity in Your City (published in 2017)—include dedicating resources and infrastructure to action; committing to and making policy and system changes; and creating a racial equity plan (that includes clear performance measures and evaluation mechanisms).
And there are numerous examples of local policies that are tackling meaningful issues, including fair chance hiring laws passed in numerous localities, a plan eliminating single family zoning passed in Minneapolis, creation of a Community Wealth Building office in Richmond, and bills requiring city agencies to conduct equity assessments and establishing an equity assistance fund in Baltimore.
What can our companies and other institutions do to dismantle structural racism?
Many items on this list of The 10 Commitments Companies Must Make to Advance Racial Justice are applicable not only to corporations but also to health systems, community-based organizations, financial institutions, and governments at all levels. This list includes committing to pay equity and paying a living wage; democratizing employment applications (eliminating boxes for felony conviction, drug testing if not required by law or the nature of the job, and college degree requirements, as well as proactively hiring, training, and mentoring Black youth); paid parental and sick leave; and full healthcare coverage for employees. Diversifying leadership is another key action all sectors and institutions should actively pursue.
In addition to taking these universal steps, certain sectors and institutions can leverage their unique assets to further combat structural racism.
Corporations should cease their disproportionate targeting of BIPOC (Black, Indigenous, People of Color) in marketing of unhealthy products (including tobacco and sugar sweetened beverages), stop other forms of discrimination against their customers, and channel their massive profits and lobbying resources in ways that align with their statements that "Black lives matter."
Banks and financial institutions should cease predatory and discriminatory lending practices, invest in Black-owned businesses, and promote economic revitalization and community development in predominantly Black communities, including through Community Development Financial Institutions.
Hospitals and health systems should align their institutional and operational resources with their clinical mission, leveraging their financial resources, land, and expertise to deploy capital in their communities in a way that addresses root drivers of health, including housing and employment.
Healthcare systems should also engage in some key practices specific to dismantling structural racism—divest from racial health inequities, desegregate the healthcare workforce, make "mastering the health effects of structural racism" a professional medical competency, mandate and measure equitable outcomes, and play a role in protecting and advocating for their patients. Individual clinicians have an important role to play to combat their own biases as well as the racial bias baked into healthcare diagnoses, algorithms, workforce pipeline, research, and more.
Academia has a role to play in taking meaningful steps to diversify their campuses as well as teach and research about racism, including teaching anti-racism and political economy; teaching faculty how to teach; diversifying curriculum committees; engaging Black students; holding leadership and faculty accountable for racist behaviors; making a concerted effort to incentivize, recruit, retain, and promote Black faculty; and redefining impact and restructuring rewards, giving weight to community engagement, community service, practice, and mentorship work as opposed to only grant funding, publications, and citations. Academics can also act on an individual level with actions such as revising their course content to be more explicitly inclusive, equity-focused, and anti-racist and following these guidelines regarding how to not host a "manel" (the latter applying more broadly than just academia).
Hundreds of institutions across these various sectors have made statements in support of Black Lives Matter and racial equity in recent months—it is high past time to back those words up with concrete actions.
Interested in other articles like this? Subscribe to our newsletter.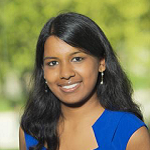 Vinu Ilakkuvan, DrPH, MSPH, is passionate about supporting and strengthening multi-sector community efforts to address the upstream, root drivers of health and health equity. Through her consulting practice, PoP Health, Vinu provides a range of consulting services (including in the areas of community collaboration, research, and communication) in this space. Vinu holds a DrPH in Health Behavior and MS in Health Communications, and teaches and advises thesis students at George Washington University's Milken Institute School of Public Health.