COVID-19 reached the Navajo Nation in March 2020 and spread quickly, recording some of the highest rates in the country. Leveraging more than a decade of foundational and deep partnerships, Community Outreach and Patient Empowerment (COPE), a Native-led nonprofit based in Gallup, New Mexico, has played an instrumental part in building what is currently the most needed workforce in the world right now: contact tracers.
Under the leadership of the Navajo Health Command Operations Center and in collaboration with the Navajo Epidemiology Center, as well as with support from its sister organizations, Partners In Health and Brigham & Women's Hospital, COPE has undertaken the joint effort to build and train a contact tracing workforce in order to stop the spread of COVID-19 on Navajo Nation.
Prior to COVID and in partnership with Brigham & Women's Hospital, COPE had been using CommCare, a mobile data collection application, as an educational platform across clinics and communities, focusing on the cancer care continuum. In this community-driven design, health education regarding cancer prevention, screening, and treatment was tailored to the individual.
In April 2020, the Navajo Health Command Operations Center opted to utilize CommCare for contact tracing. Given its previous experience with CommCare, COPE co-led the implementation of the COVID-19 CommCare contact tracing technology platform, designing it to enable case management services across all clinic and community teams, while also securely collecting the data needed to mitigate and stop the spread of the virus.
A new and necessary workforce
In its Navajo Health Command Operations Center role, COPE trains Navajo Nation health outreach workers, including community health representatives, public health workers, volunteer medical students, and college students, to conduct contact tracing on the Navajo Nation using CommCare, as well as collaborate with healthcare teams to assist with care coordination, health education, and social support. To date, COPE and partners have trained over 840 individuals in CommCare, with 661 current active users.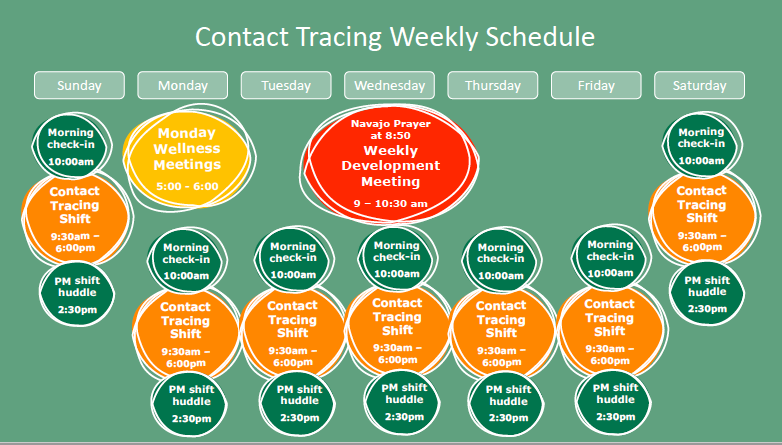 Stacey Thompson, COPE Cancer Program Specialist, describes how individuals integrate the technology platform with their contact tracing workflows:
The CommCare application requires users to adapt and navigate a new system, in which training and support are offered to each service unit on the Navajo Nation. Some individuals enjoy the good ol' fashion documentation with pen and paper, but this application requires information be captured digitally and in real-time in order to provide efficient contact tracing and self-quarantine recommendations. There is definitely a learning curve when teaching tracers to use a digital platform as the main source of documentation.
COPE's longstanding partnerships on Navajo Nation have made it possible to implement the new technology platform and provide technical assistance, while also rapidly scaling up contact tracing, throughout the ongoing pandemic. Stacey Thompson explains:
Community collaboration and partnership among all those who are involved in contact tracing for the Navajo Nation is amazing! It is neat to see volunteers from near and far come together in a virtual environment to serve our communities and mitigate the virus. Volunteers are within the United States, and some are even in Canada. We have students and interns from Diné College, University of New Mexico, Fort Lewis College, and Massachusetts Institute of Technology (MIT). Others are from the Navajo Area Office, Ancestral Lands/Conservation Legacy, and COPE staff and volunteers.
Contact tracing has been essential in receiving information from individuals affected by COVID-19, transmitting that information to identify exposed contacts, referring them to testing sites, providing health education, and encouraging self-quarantine to stop the spread of the virus. Contact tracers may be the only call that patients receive, and the education and support provided are essential, particularly in large rural areas like the Navajo Nation.
Contact tracers work remotely and use CommCare to conduct case investigation, case management, and follow-up, including referrals for essential services and resources. Sasha Hoskie is Diné and serves as a COPE contact tracer and team supervisor. When asked about common necessities that patients request, Ms. Hoskie states that "Navajo families have horses, sheep, dogs, chickens, and other animals to care for. Getting assistance at the hay and feed stores has been tough with limited hours of operation, closures, and shortage of hay. There is a water shortage on the entire reservation for people and for animals." Other essential items patients need are food boxes and baby items, particularly diapers. Throughout their daily calls, contact tracers ensure these needs are met.
Contact tracers are paramount to ensuring the Navajo Nation continues to thrive despite the unique challenges of the COVID-19 pandemic. You can read more about Sasha Hoskie's work in the Navajo Times. Please visit https://www.copeprogram.org/donate if you would like to support COPE's nonprofit work on Navajo Nation.
**All photos provided and used with permission from author Tammie Touchine & Community Outreach and Patient Empowerment (COPE).
Interested in other articles like this? Subscribe to our bi-weekly newsletter
Interested in contributing to the Harvard Primary Care Blog? Review our submission guidelines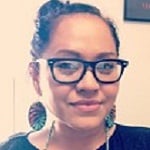 Tammie Touchine (Diné) is Grant Writer & Events Coordinator with Community Outreach and Patient Empowerment (COPE), a Native-led nonprofit based in Gallup, New Mexico. Tammie's clans are Ts'ah yisk'idnii, Bit'ahniií, Todich'iinii, and Naasht'ezhi dine'é. She lives in northern New Mexico with her three children, Raven, Imani, and Adan. Tammie joined COPE because of its mission to overturn long-standing, historical health inequalities among communities on the Navajo Nation.