COVID-19 has exacerbated long-standing health disparities that continue to affect Latino families, and further, the pandemic has revealed that many Latino families are struggling to put food on the table.
Food insecurity affects 37 million Americans, including 11.2 million children—and this is especially urgent within the Latino community. Prior to COVID-19, 16.8% of Latino households with children were food-insecure, compared to 10.4% of non-Hispanic white households with children. Since the pandemic began, 47% of Latino households with children have reported food insecurity, and recent data show this continues to rise.
UnidosUS, the nation's largest Latino civil rights and advocacy organization, has played a long-time role advocating for and shaping the implementation of policies to reduce food insecurity, and this is even more important in our current environment of increased hunger among America's families.
Strong federal nutrition programs are critical to reduce food insecurity for Latinos during COVID-19. Yet, many Latinos continue to experience barriers to program participation.
COVID-19 has reinforced the importance of access to nutritious food and highlighted the critical role that federal nutrition programs, like the Supplemental Nutrition Assistance Program (SNAP), play to help families make ends meet. SNAP is the nation's largest federal nutrition program and provides food assistance to nearly 40 million low-income people, including roughly 6.5 million Latinos. The program is also the most effective poverty alleviator in the country.
However, eligibility restrictions prevent many Latinos in mixed immigration status households from putting food on the table. For example, lawfully present immigrant adults remain subject to a five-year waiting period before establishing eligibility for SNAP.
Anti-immigrant climate prevents many Latino children and families from accessing food assistance during COVID-19.
While 95% of Latino children are citizens, concerns about the immigration status of other household members prevent many Latinos from participating in SNAP. Anti-immigrant policies, such as Donald Trump's public charge rule, have strengthened a chilling effect and amassed confusion for Latinos around federal nutrition programs.
This chilling effect has resulted in Latinos, including Latinos eligible for federal nutrition programs, to forgo food assistance or disenroll from federal programs out of fear of deportation, becoming ineligible for a green card, or disclosing a family member's immigration status. While the final rule considers the use of SNAP benefits in the public charge test, the use of child nutrition programs is exempt.
Child nutrition programs, including the Special Supplemental Nutrition Program for Women, Infants, and Children (WIC) and the National School Lunch Program (NSLP), are critical to meet the nutritional needs of Latino children. Over 40% of WIC participants are Latino, and nearly one-fourth of NSLP children are Latino.
Culturally and linguistically appropriate outreach and education for federal nutrition programs is important to address food insecurity in Latino communities.
Limited access to and availability of culturally responsive and linguistically appropriate information prevents many eligible Latinos from participating in federal nutrition programs. This could help explain why an estimated four million Latinos who are eligible for SNAP do not participate in the program.
To address these barriers, UnidosUS works closely with its national network of nearly 300 community-based affiliate organizations to ensure federal and state nutrition policies reach our communities. For example, UnidosUS has implemented its Comprando Rico y Sano, promotores de salud program to provide culturally and linguistically appropriate SNAP information and enrollment assistance.
Policies that remove barriers and expand access to federal nutrition programs are vital to respond to the food insecurity epidemic affecting Latinos during COVID-19.
Recently, Congress passed a series of relief packages to invest in WIC, SNAP, and school meals. For example, the Families First Coronavirus Response Act (Families First) created the Pandemic Electronic Benefit Transfer program to provide assistance to families who've lost access to free or reduced-price school meals due to school closures. Unfortunately, Families First, in addition to the Coronavirus Aid, Relief, and Economic Security Act (CARES Act), did not include policies to reduce barriers for all Latinos regardless of their immigration status to participate in SNAP.
While the HEROES Act includes meaningful steps to address the impact of COVID-19 on Latinos, the bill lacks targeted policy solutions required to address the immediate needs of Latinos experiencing food insecurity. Latinos are on the frontlines of the pandemic in essential jobs like healthcare and the food supply chain, though they also comprise a large number of workers who've lost their jobs in industries like hospitality, travel and transportation, and restaurants.
Congress must consider advancing policies to provide immediate relief to Latinos disproportionately impacted by COVID-19. Such policy advancements should include the following:
Remove SNAP eligibility restrictions, such as the five-year waiting period currently in place for lawfully present adults, to ensure that all who need food assistance can receive it.
Increase investments in SNAP. A 15% boost to the SNAP maximum benefit and an increase in the minimum monthly SNAP benefit to $30, as reflected in the HEROES Act, would ensure Latino SNAP participants receive more resources to put food on the table for the duration of the crisis.

Increasing investments in Disaster SNAP (D-SNAP) would ensure that SNAP non-participants impacted by COVID-19 can receive SNAP benefits.

Extending Coronavirus Response SNAP (CR-SNAP) would provide states with more flexibility to extend SNAP benefits to populations impacted by COVID-19.

Invest in Spanish-language and culturally relevant information. Such information about eligibility for federal nutrition programs must be incorporated in federal and state COVID-19 responses. This would ensure all Latinos receive information in a way that reflects their unique experiences and that all who are eligible for relief, including U.S. citizen children, are aware of and can access the necessary supports.
As our neighbors fall ill and the death toll rises, the pain and hardship caused by the pandemic will be felt for months and years to come. Unfortunately, the nation's 58 million Latinos who make significant contributions to the nation's economy and prosperity are bearing the brunt of COVID-19's impact. Unless Congress takes robust action on inclusive relief packages, COVID-19 will continue to exacerbate food insecurity in the Latino community. For more information on advocacy efforts to respond to the immediate needs of Latino families affected by COVID-19, please visit the UnidosUS COVID-19 webpage.
November 2020 will be a critical time to raise our voices and exercise our vote for political candidates who will advance policies that directly address the food insecurity epidemic affecting Latinos. All people in this country deserve the opportunity to live a healthy life. We have the opportunity on November 3rd to decide the future of our nation so that all Americans, including Latinos, can attain the highest level of health possible.
**Feature photo obtained with standard license on Shutterstock.
Interested in contributing to the Primary Care Review? Review our submission guidelines
Interested in other articles like this? Subscribe to our newsletter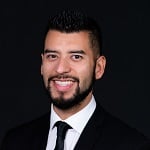 Alberto González, MPP, is a senior strategist for health policy at UnidosUS (formerly National Council of La Raza). His work as a senior strategist focuses on shaping, driving, and advancing UnidosUS's health policy agenda, including legislative, policy, and issue campaigns at the federal and state levels. He develops and implements federal and state health advocacy strategies that maximize health coverage and access opportunities for Latino families. Mr. González holds a master's degree in public policy from Harvard's Kennedy School of Government and a bachelor's degree in political science and American studies from University of California, Berkeley.