The first time I met a Black dietitian was the first day of my dietetics internship. After four years of undergraduate education, countless hours volunteering and shadowing dietitians from food banks, hospitals, community gardens, and schools, I was now in the presence of Dr. Sharon McWhinney. As a Black woman aspiring to become a dietitian, I was met with a lot of feelings during that internship orientation. Part of me was in awe, as I watched this woman command a room with her silver-grey hair, smooth brown skin, and Jamaican accent. Part of me was in shock, listening to the immense amount of work that would consume the next 11 months of my life. Part of me was confused. How was I venturing into the last part of my dietetics training, in one of the most diverse cities in the nation, and just now meeting a dietitian that looked like me?
The need for increased diversity within dietetics and the healthcare workforce has long been discussed. According to the Commission of Dietetic Registration, less than 13% of dietitians identify as part of a racial or ethnic minoritized group. In fact, the demographic profile of nutrition practitioners has been largely unchanged for over a decade. For Black dietitians, like myself and Dr. McWhinney, we are two of 2.6%. And further, the number of Black Americans admitted into dietetic internship programs has decreased by 58% in the last decade. Meanwhile, patients and clients are becoming more diverse, and as the COVID-19 pandemic has made extremely clear, communities of color, specifically Black, Indigenous, and Brown communities, are disproportionately impacted by adverse health outcomes.
The importance of diversity in all spaces, but particularly in healthcare, is well researched. Increasing the diversity of the healthcare workforce serves as an effective strategy for addressing racial and ethnic health disparities and improving access to healthcare for underserved groups.
When patients perceive ethnic or social differences with healthcare providers, they are less apt to seek care as well as less likely to share information (with providers) that's needed for appropriate medical treatment. This could be due to historical trauma and mistrust between medical communities and communities of color. This could also be due to medical discrimination and unequal treatment still faced by people of color today.
And thus, a more diverse workforce may support better care for patients of color. At the very least, a more diverse workforce can provide patients with more choices, which has been associated with increased patient satisfaction. Unfortunately, the choice to have a practitioner of color is not yet available to all patients.
A lack of diversity within the field of dietetics has unique implications. Food is closely tied to culture, traditions, and family, in addition to overall well-being. Yet, the idea of what healthy eating is, often excludes many cultures. Eurocentric diets are often pointed to as the gold standard, while foods and diets from non-dominant cultures are not taught, not highlighted in mainstream media, and not studied at the same rate.
A lack of representation among practitioners of color and the need for diverse voices in the narrative of healthy eating is the impetus for the work of Diversify Dietetics. Diversify Dietetics is a non-profit organization whose mission is to increase racial and ethnic diversity in the field of nutrition by empowering nutrition leaders of color. Born out of the need that my co-founder, Tamara Melton, and I did not see was being met, Diversify Dietetics is a community created to attract, encourage, and empower students and professionals of color who are seeking careers in the field of nutrition and dietetics.
The organization seeks to identify barriers that exist in becoming a registered dietitian and provide resources to help overcome those barriers. Through mentoring, scholarships, webinars, workshops, and educator resources, Diversify Dietetics is committed to moving the needle on diversity, equity, and inclusion in the field of nutrition—this mission impacts practitioners, and ultimately, the diverse communities we serve.
**Feature photo provided and used with permission from author Deanna Belleny.
Interested in other articles like this? Subscribe to our newsletter
Interested in contributing to the Harvard Primary Care Blog? Review our submission guidelines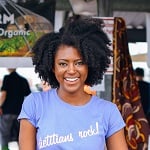 Deanna Belleny, MPH, RDN, is a Registered Dietitian and Public Health Practitioner currently living in Hartford, Connecticut. She is the co-founder of Diversify Dietetics, a non-profit organization dedicated to increasing the racial and ethnic diversity in the field of nutrition by empowering nutrition leaders of color. Deanna also serves as the Assistant Director of Health Systems Transformation at the Harvard Medical School Center for Primary Care. She is passionate about creating systems-level change that positively impacts health and advances equity for Black and Brown communities. You can follow her work on Instagram @deanna.rdn and @diversifydietetics.