On first glance, COVID-19 appeared to be the "great equalizer," particularly with reports of celebrities and world leaders infected and succumbing to the unruly virus. It seemed that income, race, ethnicity, and location were no longer protective factors. On second glance, though, we find COVID-19 is actually the "great magnifier." It has shed light on the inequities many of us have known for years.
Specifically, food insecurity has again emerged from the shadows, and this exists when "the availability of nutritionally adequate and safe foods or the ability to acquire acceptable foods in socially acceptable ways is limited or uncertain."
From the historical shadows
Food insecurity and hunger have not always been part of the American dialogue. It wasn't until a 1967 Senate subcommittee team, led by Senators Joseph Clark and Robert Kennedy, visited the Mississippi Delta, that food insecurity entered America's mainstage.
"His tummy was sticking way out just like he was pregnant. Bobby looked down at the child, and then he picked him up and sat down on that dirty bed. He was rubbing the child's stomach. [Bobby] said, 'My God, I didn't know this kind of thing existed. How can a country like this allow it? Maybe they just don't know.' Tears were running down his cheek, and he just sat there and held the little child." (Senator Kennedy's experience)
This visit to the Mississippi Delta was followed by the 1968 CBS documentary, Hunger in America, which gave the general public a visual representation of the scores of hunger existing in its own backyard. Anti-hunger organizations emerged, food banks were founded, and the government enhanced its allocation of federal dollars to address food insecurity.
From the racial shadows
Nearly 30 years later—in 1995—the United States Census started collecting food security data. Each year, nearly 50,000 households report their food security status via an 18-item questionnaire. Patterns have shown racial disparities that are very closely linked to income in communities of color. African American and Latinx American households consistently experience food insecurity at 2-3 times the rate of white American households.
It's easy to say that food insecurity is simply a result of poverty… but it's much more nuanced than that. Institutional racism through systems like redlining, mass incarceration, and discrimination in hiring practices have continued to perpetuate a growing wealth gap and persistent health disparities—so much so that white Americans have an 8-10 times higher median wealth than Latinx Americans and African Americans, respectively.
In the midst of the COVID pandemic, food insecurity has significantly increased among all racial and ethnic groups. However, food insecurity for people of color has increased by 25-30%, compared to less than 10% in white American households. A deeper dive into these social inequities challenges stereotypes and biases. We must guard our minds against the false belief that the biology of race separates communities, but rather, the "biology of racism" acts through these social mediums to create and perpetuate racial disparities. If we have the power to create social mediums, then we also have the power to recreate them in a way that blocks the effects of racism.
From the clinical shadows
The lived experience of a food insecure household often starts off like this:
Food anxiety, which occurs when individuals are constantly preoccupied with their next meal and increasingly anxious about it.
Monotony of diet, which occurs when the household diet declines in quality, desirability, and variety.
Adult restriction is when parents decrease their food intake in order to preserve food for their children.
Child restriction is when children experience inadequate food supply, which often denotes more extreme cases of food insecurity.
The psychosocial stressors that result from food insecurity can have detrimental effects on individuals and families. Unfortunately, there are no consistent anthropometric, laboratory, or clinical signs to determine if a patient or household is struggling with food insecurity—that is, it's often invisible. The Hunger Vital Sign, a two-question screener validated in many populations, can be seamlessly integrated into clinical spaces to screen and intervene in families struggling with this significant social stressor.
Call to action
We must realize that our response to food insecurity has to go beyond the typical approach of providing more food to those who need it; providing food is a necessary Band-Aid to the immediate problem. Further, supporting policies that address food insecurity are crucial, but to heal the historic wounds and trauma, we must collectively approach this paradigm with a new perspective. We must understand that food, like water, is a human right, and individuals deserve access to healthy foods in a way that promotes cultural sensitivity, respect, and a redefined food system. Thus, we must design a solution that attacks the roots of white supremacy and alleviates racial inequities—this type of solution will empower all people to regain control of their health and finally emerge from the shadows of food insecurity.
**Feature photo obtained with standard license on Shutterstock.
Interested in contributing to the Harvard Primary Care Blog? Review our submission guidelines
Interested in other articles like this? Subscribe to our bi-weekly newsletter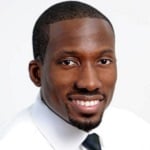 Kofi D. Essel, MD, MPH, is a Pediatrician at Children's National Hospital in Washington, D.C., Assistant Professor of Pediatrics, Director of The George Washington University School of Medicine Community/Urban Health Scholarly Concentration, and Clinical Public Health Lecturer. Dr. Essel has dedicated his career to advocacy and research around healthcare training, health disparities, and community engagement, with a special interest and national recognition in the areas of addressing obesity and food insecurity in families. He actively works at the intersection of food insecurity, community settings, and health systems to more effectively screen and intervene in clinical settings.