The Harvard Home for Family Medicine builds upon the growing community of HMS family medicine students, residents, and attendings engaged in family medicine education, research, and mentorship opportunities. While most of our more active participants are based within the Harvard system, our Harvard Medical School students often graduate to residencies further afield. In this series, we're thrilled to spotlight what some of our recent HMS Family Medicine students have gone on to achieve.


Name: Kelsey Leonardsmith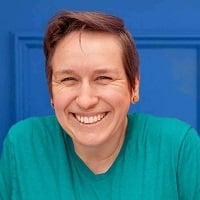 HMS graduation year: 2013
Residency: United Family Medicine Residency Program/Allina Health, Saint Paul, MN
What accomplishments are you most proud of since entering medical school?
I'm awfully proud of the work we did in the Family Medicine Interest Group (FMIG) when I was a student—especially our family medicine town hall that brought together family docs from around Boston and the greater HMS community. In residency, I started a longitudinal youth mentoring program for neighborhood kids interested in health careers that has since been incorporated into the residency curriculum. I also became very invested in transgender medicine, and worked on growing the curriculum within my residency program as well as standardizing practice guidelines for hormone care in the affiliated health system.
What are you doing now?
I have the best job! I am the luckiest human. I work at two community sites in Saint Paul. One is Minnesota Community Care, and it is the largest federally qualified health center in the state. My primary clinic, La Clinica, is eight blocks from my house, and I provide full spectrum family medicine to a diverse group of patients, the majority of whom are uninsured. I have amazing colleagues! I take care of wonderful families! I get to speak Spanish every day! I work with a group of midwives to provide OB care, and my prenatal panel is mostly patients who risk out of midwife care due to insulin dependent GDM or preexisting diabetes and other chronic health concerns. I get to welcome new babies at the level 1 trauma center downtown, which is also home to a lovely and collegial birth center. One day a week I put on a 'specialist hat' when I run the pediatric and adolescent gender program at Family Tree Clinic, also in Saint Paul. I provide hormone care and puberty blockade to trans and gender expansive youth. I get to teach residents from programs around the area who rotate in my gender clinic. I'm also affiliated with the University of Minnesota and teach medical students at La Clinica. This past year, I've also been serving as a primary preceptor for MetroPAP, a program similar to CIC. I love walking to work, and though my practice is urban, our neighborhood has a strong identity and feels like its own town. I run into colleagues and patients at restaurants, the grocery store, my kid's PTA meeting, and it brings the feel of being a small town doctor.
What are your future plans?
I'm really interested in working with my organization to build more learner-lead interdisciplinary clinical opportunities. I'm in early phases of collaborating on research projects on pediatric gender care with folks at some other institutions locally as well as possibly joining a practice-based research network. I'm actively working on expanding my point of care ultrasound skills beyond OB. I'm lucky to be working for an institution that is very supportive of individuals' initiative, and there are future leadership opportunities.
How did you decide that FM was for you?
I love many, many things in medicine and didn't think that there was a "perfect" specialty to suit all my clinical interests. As a result, it was more important for me to consider how I could use medicine to live out my values—and I could not think of a better specialty for that than family medicine. Family medicine was founded on a social justice platform. That is our history and no specialty seemed better equipped for that. As a family doc, if there is a need and someone can teach me how to fill it, I can say "yes."

What are the most important things that HMS needs to do to support students interested in FM?
Give them opportunities to connect with amazing family doctors at work. Teach them that family medicine is a near limitless specialty and also that there are plenty of ambitious, research-minded fanatics among the family medicine ranks. I also believe every Harvard medical student should complete a family medicine rotation—I wrote about this in my honors thesis that can be found in the HMS library!

What advice do you have for current HMS students about FM?
Firstly, if you're considering a FM residency, talk to Dr. Kathe Miller to seek individualized advice—or reach out to me, seriously—Kathe can connect us! I think individualized advice is important because what your peers may value in residency programs may look different in a family medicine track. It's also worth knowing that the cultural landscape of 'specialty hierarchy' is not the same everywhere. Where I trained, the medical director and the VP of the largest hospital in the city are both family docs.
When you're choosing a specialty or a residency program, it is worthwhile to dig deep into what your personal values are and to make your professional decisions align with these values—if you do this, you can't go wrong. I believe family medicine is probably the most useful specialty for global health opportunities. Within family medicine you can find organizations that will support you in a wide variety of interests; there is need everywhere, and looking outside of traditional settings might bring a surprising diversity of opportunity.
Interested in other articles like this? Subscribe to the Center's bi-weekly newsletter
Want to learn more about family medicine at Harvard Medical School? Visit the Harvard Home for Family Medicine today!