There are numerous barriers immigrants face when trying to access medical care in the United States. Unfortunately, the threat and presence of immigration and law enforcement at healthcare facilities is one of them.
Immigrants, communities of color, and border residents often fear being questioned, searched, or detained by US Immigration and Customs Enforcement (ICE) or Border Patrol agents who show up to hospitals, often in uniform, while transporting detained individuals. The impact of immigration officials' presence and actions at healthcare facilities can be detrimental, especially during public health crises, such as the COVID-19 pandemic.
Medical professionals have an obligation to ensure healthcare settings are free from intimidation so that all patients and families can access care without fear of immigration consequences or discrimination.
The American Civil Liberties Union (ACLU) of Texas Border Rights Center, the National Immigration Law Center, and Physicians for Human Rights recently published the guide, Health Care Providers: Protect Access to Care and Protect Your Patients from Border Patrol and ICE Interference, to ensure no one is deterred from seeking needed care. This guide includes information on the legal rights of providers and their patients, as well as best practices to protect patients from immigration enforcement.
The following are key steps health systems and medical professionals can take to protect their patients:
DO: Train staff on "safe space" policies. Staff should know the various protections that are available to patients. They should have a general understanding of Fourth Amendment protections and the "sensitive locations" policies, know which spaces in the facility are public and which are private, and know how to respond to immigration agents on site. Healthcare facilities should conduct ongoing training where staff roleplay their responses to ensure that staff members are adequately prepared to respond.
DO: Establish a written policy designating private areas. Establish a written policy identifying which areas are closed to the public. Limit access to certain areas to only those who are receiving or providing care, or who are otherwise necessary. To the extent possible, access to private areas intended for patients and their family members should be restricted to essential medical personnel, excluding all other staff and visitors during business hours. Additionally, the barriers between the public and private areas of the facility should be clearly marked with signs or locked doors.
DO: Request a warrant and review it carefully. When presented with a purported warrant, the designated staff member should review the warrant for validity. If the immigration agents have a valid judicial search warrant, they may enter the private areas indicated in the warrant. Remind all patients and other individuals present that they have the right not to answer any questions, other than providing their real name.
DO: Establish a written policy for extended border searches and request consent. An "extended border search" is a search that government officials, including ICE and Customs and Border Protection (CBP) agents, may conduct as a warrantless search after first encountering individuals seeking entry to the country at a port of entry or airport. When the patient is in custody, there is likely some coercion regarding consent to searches. To properly verify whether a patient voluntarily consented to a search, medical personnel should, outside the presence of immigration officials, independently obtain consent for each procedure from the patient.
If there is any doubt as to whether a patient's consent was voluntarily given, medical personnel should insist on reviewing a legally sufficient judicial search warrant. In the event medical personnel conduct a search at the behest of immigration officials, they are essentially acting as an extension of the immigration officials and are conducting a law enforcement search.
DO NOT: Conduct exams solely at CBP or ICE's request. Staff should not conduct x-rays or other exams as part of these extended searches for contraband without independently verifying that the patient's consent was voluntarily given.
If medical personnel believe it is necessary for medical reasons to conduct an internal search for drugs, the procedure should be conducted outside the presence of immigration officials. In the absence of a judicial warrant or voluntary consent to the search, medical personnel should not share any medical history subject to HIPAA protections obtained from such a procedure.
DO NOT: Consent, but document. If immigration officers ask permission, or attempt, to enter a private area, the designated person should state explicitly that they do not consent to the officer(s) entering without a warrant. If the officers say they will get a warrant, contact a lawyer and try to have the lawyer present before the warrant is served or before the search begins. During the search, document the officers' conduct with detailed notes and photographs/video. After the search, provide resources for contacting attorneys to any patient who may have been affected.
DO NOT: Collect immigration status information. As an ethical best practice, avoid asking for patients' immigration status or immigration-related information. If you must collect such information from a patient, ensure that that information is secure. Avoid including that information in the patient's medical and billing records.
DO NOT: Allow law enforcement vehicles to park in facility lots. Even if law enforcement is on site to transport someone in their custody or to seek personal care, the presence of their official vehicles in the parking lot might deter people from seeking medical attention. They should be prohibited from parking at healthcare facilities.
These are just some of the steps that hospital systems and health professionals can take in order to keep everyone safe and healthy, especially throughout the COVID-19 pandemic. If you'd like to learn more, please review our guide and this recorded webinar training for more best practices and recommended policies.
**Feature photo by Nitish Meena on Unsplash
Interested in other articles like this? Subscribe to our bi-weekly newsletter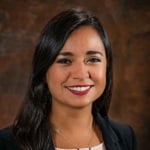 Cynthia Pompa, BA, is the Advocacy Manager at the ACLU of Texas Border Rights Center where she works to protect the civil rights of people living, or arriving, at the border, so that everyone can live freely, safely, and with dignity. Cynthia has spent the last six years advocating against unconstitutional and inhumane policies and practices in the government's 100-mile border zone, working with grassroots and advocacy groups along the US-Mexico border.