We've all seen the headlines—primary care practices are in trouble: "America's looming primary care crisis," "Fewer than 10% of primary care practices have stabilized operations amid COVID-19 pandemic," and "After 6 months of darkness, primary care practices see little light ahead."
But this isn't another article about all of the ways in which our current system is set up to fail. This is a catalog of hope, a call for revolution, an outline of what's possible when providers embrace risk and dream big. Primary care startups and incumbents alike are innovating rapidly to adapt to COVID-19, and in doing so, accelerating a long-overdue transition to value-based care.
Despite numerous studies demonstrating the value of primary care in improving clinical outcomes and reducing healthcare spend, our national investment in non-specialty care is abysmal and unacceptable.
The best available estimates indicate that just 5-7% of healthcare spend in the United States is dedicated to outpatient primary care. In comparison, primary care services account for an average of 14% of total healthcare spend across OECD countries.
Today, in the United States, it is more profitable to treat kidney failure than to prevent it. Our predominant fee for service (FFS) payment model is fundamentally misaligned with the nature of continuous, comprehensive, and coordinated primary care.
Many primary care startups participate in value-based payment models and are therefore accountable for the total cost, quality, and experience of care.
These companies are financially incentivized to offer integrated, patient-centered, team-based care and are rewarded for doing exactly what healthcare should: building systems and structures that keep people healthy.
Because their business models are less reliant on visit or procedure volume, value-based startups may be better positioned to weather the storm of the pandemic than traditional primary care practices. The most successful examples also employ relationship-based outreach (e.g. health coaches) and next-generation care management technologies (e.g. mobile applications, telehealth, predictive analytics and machine learning).
The new players shaking up the $283 billion primary care market are largely funded by venture capital and private equity dollars. While the patient population and geographic reach of these young companies is limited, there are core solution features that could be adapted for use in traditional care settings.
Here's a highlight reel of primary care's "players to watch" in 2020 and beyond:
Innovative Primary Care Providers
Value-Based Primary Care Enablers
Aledade

(PCP partner): Aledade partners with more than 550 independent primary care practices to facilitate a shift to value-based care via data analytics, policy, and ACO expertise;

raised $64M in Series C funding in April 2020




Alignment Healthcare

(payer): Offers an innovative plan for value-based care delivery focused on the highest-cost, most complex patients via proprietary technology/analytics and integrated care coordination

Blue Cross and Blue Shield of North Carolina

(payer): Blue Cross NC's "Accelerate to Value Program" received significant attention for its approach to helping independent primary care practices "keep the lights on" and transition to value
As evidenced by the work of these nontraditional frontrunners and ongoing private sector investment, this is an incredibly exciting time to enter the primary care workforce.
I'm in my last year of medical school, applying to Family Medicine residency programs, and I'm acutely aware of everything I don't know. I haven't had practical experience on-the-ground, and I don't know what it's like to care for patients over decades. But maybe the "not knowing" is a blessing, in some ways, because it gives young physicians the freedom to question and critique and dream.
There are many questions I carry with me as I move forward in my clinical training and work towards a value-based, justice-oriented, financially sustainable primary care future...
What's the best way to measure value in primary care? Should we be anchoring entirely on long-term clinical outcomes, or find a way to reward actions/activities that create value along a patient's chronic disease management journey?

How can we align financial incentives across stakeholders to ultimately benefit patients? How could we get commercial payers to fund value-based pilots in collaboration with primary care practice networks? What would inspire primary care providers to work towards true value (i.e. not just being forced to check a box on a screening requirement for billing purposes)?

What inspires primary care providers, more broadly? How can we build practice environments where PCPs are excited to show up to work each day? How can we continue to encourage future generations of brilliant, compassionate young people to choose primary care over other specialties?
How do we ensure that next-generation models of care center social determinants of health, including specific strategies to address structural racism, ableism, homophobia/transphobia, mass incarceration, poverty, cycles of trauma and erasure, and more?
Care delivery and payment innovation will require each of us to embrace change, innovate within our respective spheres, and openly share any proof-of-concept results.
The first and perhaps most important step in primary care value creation is developing a willingness to assume accountability for things we can't control. It can feel daunting to say, "I will be accountable for the health of this patient population even though there are a hundred different factors involved." But this is exactly what our system needs: courage and creativity.
We need to tell our stories, collect ROI (return on investment) data, and connect the dots to influence agents of power in healthcare, policy, and business. Better yet, let's get some of our own people (i.e. primary care providers and advocates, including women and underrepresented minorities) in these positions of power.
Our profession may have a historic aversion to risk, and decades of FFS can't be undone overnight, but every innovation (no matter how small) brings us a step closer to revolution—a step closer to a primary care future with improved outcomes and reduced cost for patients, providers, and payers alike.
**Photo by Kaboompics .com from Pexels
Interested in contributing to the Harvard Primary Care Blog? Review our submission guidelines
Interested in other articles like this? Subscribe to our bi-weekly newsletter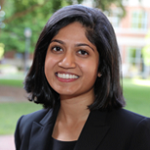 Greeshma Somashekar is a fifth-year MD/MBA candidate at the University of North Carolina (UNC) School of Medicine and UNC Kenan-Flagler Business School. She aims to leverage her clinical training and business knowledge to advocate for increased private and public sector investment in primary care and social services. Her other interests include entrepreneurship, trauma-informed care, and promoting self-compassion among trainees. Twitter: @greeshma_ideas.