The impacts of the COVID-19 pandemic continue to be felt across the United States, and this includes the ways in which we interact with the healthcare system. As the mother of a daughter with complex medical needs and a diabetic patient myself—what many would refer to as "super-users" of the medical system—we had to quickly adjust and adapt to the ways we'd need to manage our health conditions throughout the pandemic, as COVID has not stopped our need for ongoing care management. So, when I was asked to serve as faculty for the Harvard Medical School Center for Primary Care Practice Optimization Sprint, I was delighted!
Oftentimes patient partners are brought into healthcare process improvement work near the end, as health systems seek to check a box: "We have a patient…✔️." Instead, the Harvard Practice Optimization Sprint was a breath of fresh air. The faculty was interdisciplinary… we truly co-created the curriculum, each providing input from our respective areas of expertise, ultimately integrating the medical, psychosocial, and patient perspectives to drive real-time change amidst this unprecedented pandemic.
Imagine a puzzle with each piece representing a part of the healthcare environment. The patients are a piece. The providers are a piece. The human resource department is a piece. The front deck staff is a piece. Now imagine if you tried to complete the puzzle, but one of the pieces were left behind or missing… you'd have an incomplete puzzle. And thus, Harvard's Practice Optimization Sprint sought to complete that puzzle—to provide guidance on how medical providers, care teams, and staff adapt the way we provide care, and always with the patient voice at the center.
Further, as the COVID-19 pandemic has thrown health disparities into stark relief, we've intimately seen that health and access to high-quality healthcare are largely influenced by our social determinants of health (SDOH)—where we live, learn, work, play, worship, and age. Throughout the Practice Optimization Sprint, we held health equity at the center, as we discussed structural racism, screening for social determinants of health, workplace safety, and non-violent communication techniques. We focused in-depth on the rapidly evolving role of telemedicine, including how access to telemedicine impacts health disparities.
Primary care practice teams from across the country came together to engage in questions, like: How can we make better use of our data? What resources are available to improve our workflows? What strategies can we implement to better engage our patients and families amidst the pandemic?
And as we consider the COVID-19 pandemic, we realize again that our most vulnerable populations are the ones most affected. For instance, the messaging to "stay home to stay safe" can be heard anywhere, and everywhere. But what happens to those patients who can't stay home, or don't have a home? What supports do they need to be safe and continue to manage their health? These are the types of questions we explored, and I was comforted to hear that patients' voices and desires were consistently at the center.
We ended the Practice Optimization Sprint with a beautiful session about building resiliency, particularly as COVID rates are rapidly rising again across the United States. And this last session also memorialized Dr. Leah Zallman, a Cambridge Health Alliance physician, SDOH researcher, and advocate, who died unexpectedly after casting her ballot on Election Day… a day that was meant for hope. As we close out this Practice Optimization Sprint, I feel honored to have served as faculty and patient partner, and I'm encouraged by the true commitment to patient and family engagement that has radiated throughout these last ten weeks.
For more information about becoming a patient partner, please visit the Patient Partner Innovation Community (PPIC), and you can also join the conversation here.
**Feature photo by Christina @ wocintechchat.com on Unsplash
Interested in other articles like this? Subscribe to our bi-weekly newsletter
Interested in contributing to the Harvard Primary Care Blog? Review our submission guidelines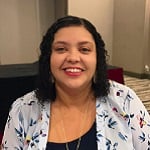 Desiree Collins-Bradley lives in Fresno, Texas, and is the mother of three wonderful children. Her daughter was born with Jarcho-Levin Syndrome, an extremely rare genetic disorder that often carries a very high mortality rate and grim prognosis. Her medical journey has inspired Desiree to become an advocate for her daughter as well as the medical community as a whole. Desiree is passionate about patient & family engagement in healthcare and ensuring that patients' voices are represented at all levels of decision-making.