I called a third time.
her voice sounds like a whisper hanging from a wire
or a storyline lost in space.
Worry not of death itself but her fragile husband and three kids
Despite everything she is eager to talk and between the cough and fatigue
Shared details, dates, places
she speaks about her experience at the hospital
and is thankful to doctors, and nurses.
However, that visit opened her eyes to a reality not everyone gets to see.
She asked: Will this soon be over?
Will I recover my health?
What to answer?
What to say?
I felt like a lost atom
Between a parenthesis
Where nothing is
Nothing exists
Not even death,
Because death can only exist
If there is life.
She said: "I have gained and lost
and if I am not here tomorrow next winter will come again."
I wondered how to give her a word, a touch, a sense of unity
How can you love the broken dreams of life?
Probably she can grasp the beauty of truth and that untouchable place where peace can only be and persist.
**Feature photo obtained by standard license on Shutterstock.
Interested in other articles like this? Subscribe to our monthly newsletter
Interested in contributing to the Harvard Primary Care Blog? Review our submission guidelines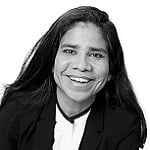 Gladys Jimenez is a Project Coordinator for Visión y Compromiso, a Los Angeles-based nonprofit that provides leadership development, capacity building, advocacy training, and support to Promotores and Community Health Workers throughout California. At the time she wrote this poem, Gladys was working at the Public Health Institute in Oakland, California, as a case investigator for the COVID-19 contact tracing program. Gladys was born in Leon, Nicaragua and now lives in Southern California with her family. She enjoys reading, exercising, and working in her garden.