It's the middle of the month, and rent is almost due again. An estimated 30-40 million people are at risk of eviction in the next several months—and one out of three renters have little confidence that they can make future rent payments, as local, state, and federal eviction protections and expanded unemployment supplements expire. Yet the number of COVID-19 cases continues to rise, and public health officials fear a second wave this fall.
On September 1, 2020, the Centers for Disease Control and Prevention (CDC) released a national moratorium on evictions, drawing the connection between housing stability and public health in the midst of the COVID pandemic.
However, we were facing a housing crisis even before this pandemic: nearly 38 million US households were being charged more than they could afford on housing, and half a million people were unhoused. Less than 1% of housing is both affordable and accessible to people living with disabilities. The growing housing affordability crisis affects all of us, but low-income people and people of color are impacted most. Women of color suffer the highest eviction rates and cost burden, and Native Hawaiian and Pacific Islander, Native American, and Black communities experience the highest rates of homelessness.
Notably, housing insecurity creates chronic health disparities that impact how well a person lives, and for how long. The threat of eviction alone can lead to significant negative health outcomes, including depression, anxiety, and high blood pressure. These health impacts fall disproportionately on low-income people, people of color, and Black women-headed households, exacerbating already disproportionate impacts of COVID on these same communities.
Much like racialized health inequities, this housing crisis and its inequities are caused by policy and political decisions… and this means we must encourage policymakers to make decisions that will achieve better outcomes for low-income people and people of color. Health professionals have an important role to play in advocating for housing strategies that will help reduce the immediate health risks posed by COVID-19, as well as advance structural change to create a more equitable housing system.
This past summer, PolicyLink worked with over 50 housing and community leaders throughout the United States to develop a policy guide for an equitable COVID-19 housing response and recovery strategy, which includes:

Prevent evictions and protect tenants.

At a time when having a stable home is essential in order to protect public health and personal safety, no one should be at risk of losing their home. Strategies to prevent evictions include:

Passing or extending

strong eviction moratoriums

that fully protect all renters through the end of the pandemic;

Funding tenant education and legal services for people facing eviction;

Creating rent relief funds that reach the most vulnerable;

Cancelling or forgiving

rent and mortgage payments; and

Passing permanent tenant protections, such as just cause and rent control.

In many places, tenant groups are advocating to extend existing eviction moratoriums, as well as organizing eviction defense actions. In Illinois, for instance, Governor Pritzker extended the eviction moratorium for another 30 days after tenant activists in Chicago occupied eviction court for five days.

Address homelessness and advance housing as a human right.

The COVID-19 pandemic has magnified health risks for people who are

experiencing homelessness

, and public resources should be targeted to address immediate needs and advance

housing-first models

. This includes suspending the dismantling of encampments, connecting people experiencing homelessness to emergency housing, and purchasing buildings such as motels and hotels to create permanent housing solutions.





People

being released from incarceration, in particular, face housing barriers and need targeted strategies to expand access to housing. For example, earlier this year, Berkeley, California, passed the strongest

fair chance housing policy

in the US to prohibit landlords from discriminating against people with records.



Sustain and increase community ownership and permanently affordable housing.

The 2008 foreclosure crisis wiped out

trillions of dollars

of generational wealth in Black and Latinx communities—including half of all Black wealth—and ushered in a rise of private equity investment firms that has contributed to the pervasive housing inequities we see today. Many of the same actors are

poised

to swoop into low-income communities and communities of color again during this recession. Small landlords of color and other lower cost housing providers operate at low margins and have limited reserves to weather an economic downturn, putting them most at risk of being forced to sell their properties.





Cities,

public housing authorities, and other local agencies can protect low-income neighborhoods by ensuring low-income homeowners, small landlords, and affordable housing providers have access to relief; supporting community ownership to expand permanently affordable housing; and halting predatory speculation. In Minneapolis

,

tenant group Inquilnxs Unidxs

organized 40 families to purchase their apartment building after years of landlord negligence and poor housing conditions.





Divest from the police and invest in racial equity.

Housing and policing are deeply linked. The uprisings against police brutality that were sparked in Minneapolis with the

police killing of George Floyd

on May 25, 2020, have spread across the country. An equitable housing strategy should address the harms of police violence in low-income communities and communities of color by reallocating scarce public dollars away from policing and toward investments in housing, healthcare, and other essential services.





Cities

can also reduce the use of police for noncriminal activity, such as mental health crises and public nuisance complaints, and direct more funding to Black-led organizations to work in these communities. For example,

Oakland has created a task force

to develop recommendations on reducing their police budget by 50% and investing in community-driven solutions.
As cities continue to develop and refine their COVID-19 response and recovery strategies, they must not only act quickly, but also deliberately, with community stakeholders at the table representing those most directly impacted and at risk of harm. Health professionals can support local campaigns by making the case to policymakers that a safe, stable place to live is good health policy.
**Feature photo by Guduru Ajay bhargav from Pexels
Interested in other articles like this? Subscribe to our bi-weekly newsletter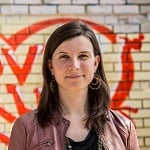 Chris Schildt, MCP, is a Senior Associate at PolicyLink, a national nonprofit that works to advance racial and economic equity. She works with community-based partners and local policymakers to advance housing justice and anti-displacement policies and strategies in cities throughout the United States through research, learning networks, and technical assistance. Prior to joining PolicyLink, Chris worked on campaigns for affordable housing and local hire related to transportation and land-use planning in the San Francisco Bay Area. She holds a BA and Master of City Planning from the University of California, Berkeley.