"Can I take a bath during my period?" comes a feeble voice from one corner of the classroom. I struggle to put the words together but am afraid to ask again lest the enquirer retreat. "I missed my exam because I was on my period that day, and the cloth I use often leaks and soils my clothes," someone else says from another corner. Slowly the entire room fills with questions that I never imagined existed. I wonder if we have different centuries for different people.

That night I could not sleep as I tried to fathom the gravity of this situation. Why is female health so neglected? In remote regions of India, when an adolescent girl starts menstruating, her household may treat the situation as if a crime has been committed. She is never given proper education about what menstruation is all about, what products she should use, or why hygiene is so important.
I was shocked to learn that some girls are not allowed to take baths during their periods, and some must wash and reuse the same piece of old cloth over and over again. Those with access to sanitary pads are sometimes instructed to use the same one for very long hours for economic viability. Because many homes lack indoor toilets, girls often have to urinate and defecate in fields where access to clean water is limited. They don't have appropriate products for cleaning their genitalia and are not allowed to take any medicine to relieve period pain. They may be forced to sleep in a different area outside the house, be told what to eat and not eat, and required to use special utensils. They also may be either made to or choose to skip school. The list is long but ends with the golden rule to never openly discuss periods within the family.
Why is menstruation being treated like a sin in the 21st century? On that day, I committed to answering every one of the myriad questions these little girls had, no matter how much time or effort it took.
Over time and through my interactions, I realized that the causes behind this problem were deep-rooted. They were an amalgamation of historical impediments, cultural taboos, poverty, illiteracy, gender inequality, and lack of basic services like toilets and sanitary products. Menstruation-related stress, anxiety, and vulnerability hold young girls back on many levels. They are the future of every nation, and menstruation should not be a hindrance to their overall development. The stigma attached to menstruation has long bred a culture of silence. It's time to break that silence. By promoting menstrual hygiene, we not only safeguard the health of women but also provide them the opportunity to excel in every sphere of life, a right they have always been entitled to.

The situation is not all bleak. In other parts of India, the onset of menstruation calls for a celebration. Instead of hushing the event, it is understood as the girl's first step into womanhood, and the whole family partakes in a grand affair. While such a celebration helps to destigmatize menstruation, it does not necessarily lead to the education and support that girls need.
It is very important to teach girls that it is not "P for periods and P for problems" but, instead, "P for periods and P for power"—the power to procreate. We must inculcate the thought that periods are a sign of healthy physiology, not a disease or illness, and make sure that hygiene products are readily available. I personally feel that just educating women and girls only addresses half the problem; we also need to teach our men and boys about menstruation and how they can approach it more empathically. Especially in developing countries, women and girls still depend upon men for basic necessities, which men cannot provide if they don't understand what the needs are.

The World Bank estimates that 500 million women and girls worldwide lack access to adequate facilities for menstrual hygiene management. Period poverty is now recognized as an important cause of depression, especially among college students. Though governments are trying to make menstrual products more accessible by making them tax-free and distributing sanitary napkins in schools and colleges, the unmet needs remain high. We must persevere until period inequities are eradicated everywhere.
This article originally appeared in the March 2022 issue of the Massachusetts General Hospital (MGH) Global OB-GYN Newsletter, a publication of MGH Strength and Serenity Global Initiative to End Gender-Based Violence. To read past issues and learn more about this program, click here.
**Feature photo provided and used with permission from author Garima Vats & the MGH Strength and Serenity Global Initiative to End Gender-Based Violence. Pictured is Dr. Vats delivering health talks at Government Girls Senior Secondary School, Railway Mandi, Hoshiarpur, Punjab, India.
Interested in other articles like this? Subscribe to our monthly newsletter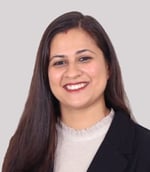 Garima Vats, MBBS, is a consultant Obstetrician-Gynecologist at Dhami Hospital and Trauma Centre in Hoshiarpur, Punjab, India. She believes in service to the community and does her part through raising awareness about menstrual health. This includes educating young women about menstrual hygiene and strategies for managing their periods. She loves volunteering her time to provide outpatient care in her locality. She feels very fortunate to have parents who inculcated a commitment to service in her from a young age. She works with her parents at a NGO called Bharat Vikas Parishad with the mission of building nation by building humans.