For medical and public health practitioners working on the COVID-19 response, infectious disease is what we see all day every day. But when we look beneath the surface, we see the extent to which this infectious disease pandemic is fueled by an underlying chronic disease pandemic.
Deemed its own pandemic in 2012, physical inactivity is a major risk factor for chronic diseases, and we're learning the extent to which physical inactivity is a risk factor for severe COVID-19 outcomes. Research demonstrates that the least active people (i.e., active 10 minutes or less per week) are much more likely to be hospitalized with COVID-19 compared with the most active people (i.e., active 150 minutes or more per week), and are 2.5 times more likely to die. In fact, physical inactivity may be a stronger risk factor for severe COVID-19 outcomes than heart disease, cancer, diabetes, high blood pressure, smoking, and obesity.
In the first month of the March 2020 lockdown, global mean step counts decreased by 27%. And when lockdowns were lifted, many people did not return to pre-lockdown levels of physical activity. So, what role can medical providers play in getting people moving? Primary care providers are cited as the most trusted source of physical activity information.
As trusted messengers, providers play an important role in getting their patients moving. The World Health Organization identifies physical activity counseling and referral (to community-based physical activity opportunities) as part of routine primary care as a "best buy"—both cost effective and feasible for implementation. And further, the 2018 Physical Activity Guidelines Advisory Committee reports that the primary care setting represents a​ ​scalable opportunity to influence population-level physical activity if effective approaches can be implemented.
Yet too few patients receive physical activity counseling in the health care setting. According to the 2010 National Health Interview Survey, only 1 in 3 U.S. adults who saw a physician or other health professional in the previous 12 months was advised to begin or continue to do exercise or other physical activity.
Health care providers face numerous barriers to physical activity counseling, including time, training, screening tools, and cost. Lack of time is the most common barrier cited by physicians. Health care organizations can help address this time barrier by deploying patient care team members to share responsibility on physical activity counseling and referral. Medical assistants or nurses can screen for physical activity and enter minutes per week into the electronic health record. Electronic health records can support providers in physical activity counseling by prompting follow-up, printing electronic prescriptions, and facilitating referrals based on patient zip code. There's also a movement to train current and future physicians on physical activity counseling, as fewer than half of U.S.-trained physicians receive any formal education in this area.
Physicians also cite cost to patients as a barrier to follow through on referrals, and reimbursement is a significant facilitator to provider counseling in countries which have national programs in place. The two main components to cost include reimbursement for the physician's time, as well as cost to patients of following through on a referral (e.g., costs of working with a health coach or fitness professional, group class fees). The American College of Sports Medicine and the Physical Activity Alliance have compiled resources for medical providers that list billing and diagnostic codes that support physical activity assessment and referral. Expanding reimbursement is critical to supporting physical activity counseling and referral in the United States.
There are clear paths forward for overcoming these barriers of time, training, screening tools, and cost. This will help realize the potential of the primary care setting to help get people moving, as primary care providers are cited as the most trusted source of physical activity information!
**Feature photo obtained with standard license on Shutterstock.
Interested in other articles like this? Subscribe to our monthly newsletter
Interested in contributing to the Primary Care Review? Review our submission guidelines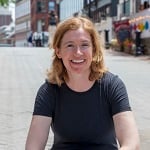 Amy Bantham, DrPH, is the Founder & CEO of Move to Live®More, a research and consulting firm addressing physical inactivity, obesity, chronic disease, and social determinants of health through cross-sector collaboration and innovation. She is also the COVID-19 Research Advisor for the City of Somerville in Massachusetts. Amy holds a Doctor of Public Health (DrPH) from the Harvard T.H. Chan School of Public Health.