Primary care is the foundation for population health and well-being. Unfortunately, our efforts to address the coronavirus pandemic have exposed many critical structural deficiencies in our country's health care system, most notably the lack of investment in primary care.
Equal access and equitable care
While the disparate impact of the coronavirus on Black Americans is the result of multiple factors, many related to structural racism, for me as a physician, one of the most concerning is inequitable access to care.
Black populations experience elevated levels of chronic illnesses, including diabetes and heart disease, which are risk factors for worse outcomes in COVID-19. These could be ameliorated with improved access to high-quality primary care.
Moreover, lower levels of wealth among Black households leads to increased likelihood that they will contend with other social and economic risk factors for infection, including overcrowded housing.
All of us working in health care must strive to eliminate the unjust, disproportionate impact of the coronavirus and other illnesses, chronic and otherwise, on our communities of color.
The whole patient
Just as it is important to recognize the social dimension of the coronavirus pandemic, it is important to recognize that COVID-19 is more than a respiratory disease. COVID-19 is an assault on mental health. The crashing waves of depression and anxiety that have accompanied the pandemic are urgent reminders of the importance of integrating behavioral health within primary care, along with providing screenings for substance use disorders and assessing the risk of domestic violence.
Moreover, it has impacted how we all interface with health care. Throughout this pandemic, there have been massive disruptions in routine primary care visits. If the virus persists, or if COVID-19 is just the latest in a sequence of global infectious pandemics, the health care community must be better prepared to continue providing care during outbreaks. Far too often the most vulnerable in our communities suffer the most from disruptions in care, which only serves to further exacerbate existing health inequities.
With such great need, it's particularly distressing that primary care practices have been especially hard hit financially by stay-at-home advisories and shutdowns.
What comes next?
While it is unclear what the future will bring, we know that primary care medicine will play a crucial role.
Primary care will take the lead in educating the public and helping to roll out potential vaccines and treatments. It will also play an important role in the surveillance and contact tracing efforts that are vital to stopping pandemics.
Primary care teams will be needed to address the backlog of routine health maintenance issues that amass during a shutdown, and they will deal with the increased burden of disease that arises from delayed care. Primary care clinics will be on the frontline in our efforts to respond to the long-term effects of the coronavirus. The enduring impact of the disease on various organs and organ systems will not be evident for years, but emerging clues indicate that at least for some, the sequelae will linger long after the disease is gone.
Amid all this, Harvard will continue to lead efforts to find better ways to deliver and pay for care, working with individual patients, practices, and policymakers. The Center for Primary Care's efforts to assist practices in responding to the COVID pandemic, to advocate for payments that will rescue failing practices, and to help practices recover and reopen so they can provide access to patients illustrate how we can combine research, training, and service to improve health and well-being for all.
The cost of the outbreak to date—in lost life, well-being, and social and economic terms—is ample evidence that there is room for much improvement in our health care system. We must rise to the challenge, and primary care will lead these efforts.
**Feature photo obtained with standard license on Shutterstock.
Interested in contributing to the Harvard Primary Care Blog? Review our submission guidelines
Interested in other articles like this? Subscribe to our bi-weekly newsletter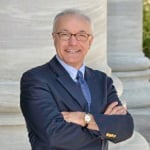 George Q. Daley, MD, PhD, is Dean of the Faculty of Medicine at Harvard University, Caroline Shields Walker Professor of Medicine, and Professor of Biological Chemistry and Molecular Pharmacology at Harvard Medical School. A clinician scientist trained in hematology-oncology, his laboratory research focuses on blood development and hematopoietic malignancies.