"Music, uniquely among the arts, is both completely abstract and profoundly emotional. It has no power to represent anything particular or external, but it has a unique power to express inner states or feelings. Music can pierce the heart directly; it needs no mediation."
-Oliver Sacks, MD, Musicophilia: Tales of Music and the Brain
During my sub-internship stint at the neonatal intensive care unit (NICU) in New York's Mount Sinai hospital as a visiting international medical student, I witnessed board-certified music therapists using interventions such as a wooden Gato box and Ocean disc for premature babies to emulate the sound of maternal heartbeats and timbre of the whooshing amniotic fluid as how they would listen within utero. I was rather flabbergasted by the Ocean disc and at how the music therapist adjusted the pace of the flow of beads within the disc. It was simple, yet impactful! The Ocean disc and Gato box, along with parent-preferred lullabies, positively influenced the infants' autonomic nervous responses, reduced the heart rate and respiratory rate, and increased the sucking behavior in premature babies. Researches report that music modulates heart rate, pulse, and blood pressure, explaining the possible underlying mechanism behind the calming effect of soothing music. In a 2021 study, researchers observed that live music interventions may be more effective than recorded music interventions in reducing pain and anxiety in pediatric critical care patients. There was a significant reduction in heart rate among infants who received live music, immediately after the intervention and was sustained at 60 minutes after the intervention. The effect of sound/music in the autonomic nervous system is further utilized to extend comfort to patients undergoing surgery by reducing the heart rate and blood pressure. It's also used in coronary heart disease and stroke rehabilitation. Evidence points to the therapeutic quality of music.

History
In 2008, a team of archeologists discovered a griffon vulture-bone-flute with five finger holes and a V-shaped mouthpiece from southern Germany, dated around 35,000 years ago, demonstrating the presence of a well-established musical tradition. Music is a unique human expression whose appreciation seems to be a primitive and innate trait: intimate, persuasive, emotional, engaging, and personal. Throughout human evolution, every known culture has given music an illustrious position, both for its aesthetics and potential therapeutic properties. There have been historical mentions of contextual use of music in medicine as early as 4000 BCE. During the Second World War, Harriet Ayer Seymour, a pianist and teacher who, along with her students, helped hundreds of wounded soldiers regain mental health-mentioned, "We know that the right music will change fear into faith, and despair into courage, because we have seen it happen." Seymour later founded the National Foundation for Music Therapy in 1941 and authored the first music therapy textbook published in the United States. The beginning of the 20th century witnessed critical advances in learning the neural correlates of music. Along with the growing understanding of the underlying mechanism behind music's influence on people, scientists have also measured the clinical impact of music-based interventions.
The official definition of music therapy provided by the American Music Therapy Association (AMTA) is the clinical & evidence-based use of music interventions to accomplish individualized goals within a therapeutic relationship by a credentialed professional who has completed an approved music therapy program. There are two types of music therapy; clinical and therapeutic. Whereas clinical music therapy is a research-based, professional discipline that is practiced by credentialed music therapists, therapeutic music therapy includes patients listening to their favorite music on their headphones or musicians singing or playing an instrument bedside. Music-based interventions are not a stand-alone treatment but, when utilized with standard treatments, music-based interventions may have a beneficial impact on anxiety, depression, movement disorders, epilepsy, stroke rehabilitation, and dementia-related disorders.
Clinical impact

Randomized controlled trials suggest listening to vocal music is a successful intervention to support cognitive recovery following stroke. Interestingly, music's ability to provide solace has origins in endocrinology as well. Studies report that exciting music can raise plasma cortisol (a stress hormone) in patients, and soothing music – when played postoperatively – can lower serum cortisol.
Musical interventions have been increasingly used to help patients cope with stress. Striking data from functional imaging shows that music modulates the activity of specific regions in the brain whose abnormalities may result in pain, anxiety, and depression, suggesting music's positive influence on them. Music therapy interventions, specifically tailored to the patient's needs, have been shown to remarkably lower anxiety, depression and aggressiveness in patients suffering from Alzheimer's disease. A clinical study among women undergoing ambulatory breast surgery for cancer diagnoses and treatments illustrated that music had been a safe and effective intervention that may help manage preoperative anxiety. In separate studies, music therapy was also observed to significantly lower anxiety and distress in patients receiving simulation of radiation therapy, decrease pain in adult surgical patients, reduce mood disturbance, and help in pain management among patients undergoing high-dose therapy with autologous stem cell transplantation.
A meta-analysis that reviewed ten randomized controlled trials provides evidence that musical interventions may improve verbal and non-verbal communication, social interaction, initiating behavior, and social-emotional reciprocity in children with autistic spectrum disorders (ASD). Furthermore, musical interventions might contribute to enhancing social adaptation skills and improving the parent-child bond. Another study observed that listening to Mozart K-448 reduced the frequency of epileptiform discharges in children with refractory epilepsy.
Future directions
Music's therapeutic potential has been evident since the earliest days of humankind, but it wasn't until the later part of the 20th century that music therapy heralded the beginning of an impactful new profession. Currently music therapy is an established healthcare profession in several countries including the United States, the United Kingdom, Australia, and Canada. It has been 70 years since the United States has inculcated music therapy into the academic curriculum and currently, there are about 8,000 therapists who are board-certified across the US. Although music therapy is a burgeoning field, many countries lack accredited music therapy training programs, despite having extensive indigenous musical repertoires, which leads to a dearth of board-certified music therapists. As the horizons of music therapy are expanding in both frontiers of research and clinical applicability, we can hope that soon more countries embed music therapy into their respective healthcare infrastructures and utilize the transformative power of music.
**Feature photo by Lorenzo Spoleti on Unsplash
Interested in other articles like this? Subscribe to our monthly newsletter
Interested in contributing to the Harvard Primary Care Blog? Review our submission guidelines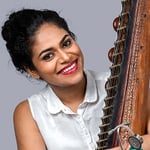 Tara Rajendran, MBBS, MFA, is a physician, classical instrumentalist, short story writer, and TEDx speaker. She holds bachelor and master degrees of fine arts in music, and she's currently pursuing a PhD in Music from Annamalai University in India. Tara is the founder of "Oncology and Strings," which implements music into the palliative oncology infrastructure. You can follow her work on Instagram and Twitter.