"When I grow up, I wanna be Dr. G!" That was how, at seven years old, I announced to my parents that I wanted to be a doctor. Dr. Jan Garavaglia (aka, "Dr. G") was my role model and the star of my favorite TV show, Dr. G: Medical Examiner. Growing up as an avid viewer of Discovery Health Channel programs, my earliest role models were the doctors I watched every day.
I developed a fascination for medical science, as evidenced by how I constantly drew pictures of organs on surfaces around the house and recorded medical terms in my diary. Though I had opportunities to enjoy normal childhood activities, I simply preferred the world of medicine. Being able to recognize my interest in medicine at such a young age is one of the reasons why I believe that becoming a physician is my purpose in life.
It was not until I was much older that I began to recognize that very few of the TV doctors I grew up watching—or any of the doctors I went to for care—looked like me. It is not surprising that I rarely saw African American physicians around me considering that they comprise only 5% of the physician workforce. The realization that I could add to diversity in the field of medicine further invigorated my desire to embark on this challenging journey.
From pre-medical education to medical school to residency and beyond, becoming a doctor is no easy feat. Several years of commitment to a rigorous and expensive education is not something everyone can afford—or even imagine themselves doing. The average yearly tuition and fees for a public medical school in the U.S. is about $39,000, and private medical schools average a whopping $62,000. Adding on the cost of attaining a bachelor's degree, students aspiring to enter the medical field can graduate hundreds of thousands of dollars in debt.
The cost is just one hurdle students must jump over. All the time and effort needed to achieve academic success and build an impressive resume of extracurricular activities, including volunteering, leadership positions, research, and shadowing, present another huge obstacle. Students from economically underprivileged backgrounds are especially disadvantaged in this process. Furthermore, the lacking diversity in the medical field can be discouraging to students who are underrepresented minorities.
Being an immigrant from a developing country as well as the first in my family (along with my older sister) to pursue a career in medicine, I knew that I would not have an easy path. Since high school, I aggressively sought mentorship and scholarships that helped me pursue my dream. I now have the immense privilege of being a medical student due to the support I received.
However, I recognize that there are many students who will have a much more challenging academic journey than I did. This was made painfully obvious to me during my time working as a teaching fellow for Breakthrough Houston, a college readiness program for motivated students from underserved areas. As one of the founding teachers of the Pre-Health Careers elective class, I met many bright young students who doubted that they were capable of becoming doctors. I will never forget the heartbreak I felt each time I heard "I'm definitely not smart enough" or "My family could never afford it." I tried my best to encourage my students, but I felt words alone were not enough.
My experience working as a teaching fellow inspired me to consider what more I could do to support underprivileged students who wanted to pursue careers in medicine. At the end of my pre-medical journey, I found myself not only graduating with thousands of unused scholarship funds, but also a full scholarship to medical school. As I pondered how best to spend the extra funds, I remembered all the students like those I had met at Breakthrough Houston who faced tremendous obstacles on their path to becoming physicians. That was how the idea of creating a scholarship for disadvantaged students came to be. Thus, the Black M.D. Scholarship Program was created in January 2022.
I founded Black M.D. alongside two of my siblings, Julliet and Emmanuel Ogu, with the goal of supporting African American students in Texas who are interested in careers in medicine. With the process of gaining admission into medical school becoming increasingly expensive and competitive, I want to help reduce the barriers by providing mentorship and financial assistance to students embarking on this path. I hope that our program can play a small role in increasing the number of Black physicians. We started by providing aid to students at our high school and undergraduate alma maters: Fort Bend Independent School District high schools and the University of Texas at Austin. Though we started small, I hope to grow our fund over the years and make our scholarships open to students across Texas.
I used to lament over all the things I felt were wrong about our health care system and think that there was nothing I could really do on my own. While no one can fix the issues with diversity in medicine tomorrow, I no longer believe I am powerless. Through the Black M.D. Scholarship Program, I am taking action to help create a world where Black youth can see themselves adequately reflected in their health care heroes—just as I wished to during my childhood. What started off as a seven-year old's desire to follow in the footsteps of her TV idol has blossomed into a commitment to promoting diversity, equity, and inclusion in medicine.
**Feature photo obtained with standard license on Shutterstock.
Interested in other articles like this? Subscribe to our monthly newsletter
Interested in contributing to the Primary Care Review? Review our submission guidelines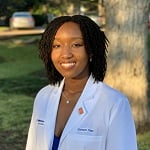 Jenifer Chisom Ogu ("Chisom Ogu") is a first-year medical student at the University of Texas Southwestern Medical School. She obtained her Bachelor of Science and Arts in Nutrition from the University of Texas at Austin. As the Founder and Chief Executive Officer of the Black M.D. Scholarship Program, Chisom strives to provide mentorship and financial assistance to African American pre-medical students in Texas. She is passionate about improving diversity, equity, and inclusion in medical education.