In July 2018, I engaged in a four-week research and service-learning trip in Buhoma, Kanungu District, Uganda. The trip was designed to address two of the most pressing concerns for the isolated, rural communities that rely on the local hospital, Bwindi Community Hospital:
Child and neonatal health morbidity and mortality; and

Human immunodeficiency virus (HIV) and acquired immune deficiency syndrome (AIDS).
The hospital was founded by Dr. Scott Kellermann in 2003 in response to the displacement of the Batwa Pygmies. The Batwa Pygmies were removed from the Bwindi Impenetrable Forest by international conservation groups and government forces when the United Nations Educational, Scientific, and Cultural Organization (UNESCO) designated it a World Heritage Site in 1991.
The Batwa knew how to live in the forest but were unaccustomed to living in Ugandan society. They were exploited both physically and mentally. As a result, the Batwa faced many diverse health issues.
The 112-bed Bwindi Community Hospital, which began as a mere outreach clinic situated under a tree, now employs 120 Ugandans. Many Ugandan physicians, who typically already work in other rural hospitals, spend alternating two-week periods at Bwindi Community Hospital. In addition, many foreign physicians from the United Kingdom, Australia, and the United States provide year-long services to the hospital. Others come for a few weeks to work on research or to voluntarily provide patient care.
During my time at Bwindi Community Hospital, I spent time in many departments, including primary care, emergency medicine, inpatient services, maternal and child health, dental services, infectious diseases (primarily HIV/AIDS and tuberculosis), surgery, and the nursing and midwifery training school.
Community-based research at Bwindi Community Hospital
We developed two hypothesis-driven projects while working with Bwindi Community Hospital's research department. The first study, a child health and mortality assessment project, sought to identify risk factors, variables, and commonalities in the trends of infant and perinatal mortality in the region over the last decade from 2010 to 2018.
Child mortality is a persistent issue in Uganda. The data we obtained from the Bwindi Community Hospital revealed that perinatal conditions, including birth asphyxia (i.e., oxygen deprivation at birth) and malnutrition, had significantly larger percentages of mortality than any other causes. Infectious diseases, malaria, respiratory conditions, environmental conditions, and non-communicable diseases have experienced lower mortality in recent years due to targeted interventions by Bwindi Community Hospital and its community programs.
HIV/AIDS remains a tenacious health concern in Uganda, and thus, the second study sought to identify barriers that challenge patients living with HIV/AIDS in adhering to their antiretroviral therapies (ART). At Bwindi Community Hospital, patients with unsuppressed viral loads are candidates for intensive adherence counseling, where an interview can help reveal some of the barriers that patients face.
Much of the HIV/AIDS data from unsuppressed patients had not yet been evaluated at the hospital, so we reviewed paper charts to collect data on 90% of unsuppressed patients to better understand their behaviors. We discovered that females accounted for the majority of the HIV population at Bwindi Community Hospital's HIV/AIDS clinic; however, they had a higher adherence to ART as compared to males.
Support systems are valuable in the adherence to ART. The local research team recommended interventions to address poverty, food and water security, substance use, and support systems to be integrated with individual and group-based ART adherence models in Kanungu district.
Looking to the future: global health in perspective
Although we may never fully understand the challenges the Batwa Pygmies confront, we must strive to understand the lives of others, as we seek to address health and disparities. With particular regard to global health research, it's critical that we work within a community-based framework and communicate directly with local stakeholders, as research should be an integrated effort to better understand the current state of affairs within a community. In the child mortality and HIV/AIDS projects described, our role as partners is to assist the community in implementing change. And the greatest responsibility is to ensure local sustainability of the project, especially after the external research team departs.
The opportunity to engage and work with diverse teams to improve the health and wellbeing of individuals and communities is the most fulfilling experience, and it's something that I continue to cherish every single day.
**Feature photo provided and used with permission from author Umaru Barrie & Bwindi Community Hospital.
Interested in other articles like this? Subscribe to our monthly newsletter
Interested in contributing to the Primary Care Review? Review our submission guidelines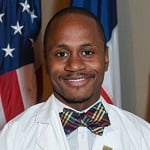 Umaru Barrie, a Sierra Leone/Guinean-American by way of Harlem, New York, is a 6th year MD/PhD student at the University of Texas Southwestern Medical Center (UTSW). Umaru's research focuses on infectious diseases, global and community health, and academic medicine. Prior to joining UTSW, he was a National Institute of Health-PREP scholar at Albert Einstein College of Medicine where he studied infectious diseases. Umaru has established numerous public charity organizations serving underprivileged and underserved communities.